Visio 2013 doesn't have a Reset Settings option
Have you ever made some changes in the Visio 2013 Snap & Glue settings page and wanted to restore the settings to default, but couldn't? Well that's because Visio 2013 doesn't have a Defaults or Reset button as you can see from the image below.
To see the Snap & Glue settings go to View tab > Visual Aids > Advanced tab (in my settings I set all the values to 30):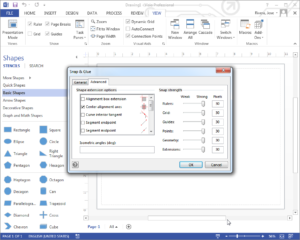 Resetting Visio Snap & Glue settings
Close all Visio windows.
Click the Windows button and in the Search programs and files field type in regedit.exe and hit Enter to open the Windows Registry Editor:

Go to the HKEY_CURRENT_USER\Software\Microsoft\OFFICE\15.0\Visio\Application key and back it up (just in case ;). Then select all the values and delete them:

That's it, now Visio is Reset, open Visio and go to the Snap & Glue settings window to see the settings are reset to their default values:

Hope this helped if you needed it!